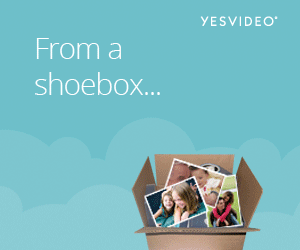 If you have old video tapes, slides, films or photos that you would like to have transferred to DVD, YesVideo does just that. Just order online and ship directly to YesVideo, order an EasyShip Kit or drop off at any of their 34,000 retail locations and they will turn your classics into a digital masterpiece. Right now, you can print a coupon for 25% off your YesVideo order!
About YesVideo:
Since 1999, YesVideo has been providing services and programs for families to protect and share generations of memories. We believe in designing products that our own families would enjoy and building processes that we would trust to handle our own irreplaceable memories. YesVideo understands the value of these treasured family memories. We take the handling of these precious memories very seriously. We capture video using our industry-leading technology, create custom scenes using our patented algorithms, record audio into high-quality Dolby Digital, return original tapes (along with your new DVD movies) and repair damaged videotapes.
This post may contain affiliate links, please see my disclosure policy here.